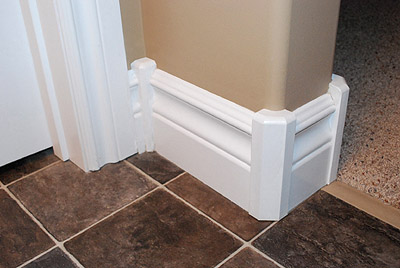 FaVer Wood Products is a family owned manufacturing company specializing in wood interior molding corner blocks and other custom wood molding accessories.
We are located at Birnie, Manitoba, Canada, approx. a 2 hour drive Northwest of Winnipeg. We have been in operation since 2002. Originally we developed our products for our own use in the homes we were building. As we developed these beautiful wood trim molding accessories we realized that this was something that could serve a much larger market.
The customer response to our wood baseboard corner blocks, wooden decorative rosettes (casing blocks), and wood plinth blocks has been very positive. They add that special touch to any trim style and complement other decorative molding corners and crown molding touches you may have in your home.
OUR PRODUCTS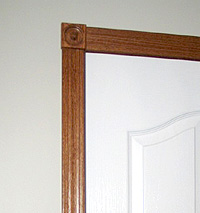 Decorative Wood Rosettes

(also called casing blocks)
Our standard wood rosette thickness is 11/16". We stock as a standard 3 sizes-2 ½", 3", and 3 ½" Other sizes are available by special order. We offer 4 rosette profiles.
Wood Baseboard Corner Blocks
When it comes to baseboards we have them pretty much cornered.
Benefits include:
Eliminate tricky mitering and coping of corners



Available for square or round drywall corners

Available for outside and inside 90* and 45* angled walls

Can be used with any height of baseboard

Stocked in 7/16", 9/16", 5/8", 11/16", 3/4" and 13/16" thicknesses
Simple lines that go well with any trim profile

No need to find a baseboard corner that exactly matches your baseboard profile

Standard length 6" corners can easily be cut shorter to match any height baseboards


Corner blocks can be custom ordered longer to match any baseboard height more than 6" 
Plinth Blocks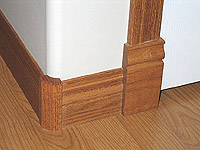 Plinth blocks add that distinctive touch as they join door casings to baseboards. They are great for those wanting to recreate a style from earlier times, but look good in contemporary homes also. The catalogue lists them as 6 ½" high, but they are available in other heights by special order. If you want to save a bit of money, you can order them 20" long and cut them to the appropriate length yourself.
Available Wood Species
: Our catalogue has prices for Oak, Maple, Pine, and Primed MDF. We also can supply molding accessories in other species. If there is enough demand for a particular species of wood, we would add it also to our standard catalogue.
Please click to view a category of products...